It's hard to believe that summer is just one month away, and while you are likely making plans for summer camps and vacations, we don't want you to forget to make time for roller skating as well. It's the perfect summer activity as it is indoors, meaning you can get out of the scorching summer heat, and it's still active, giving your kids the opportunity to burn off some energy. Our two East Texas roller rinks, Skate Ranch and Skate-O-Rama, will both have extended hours through the summer, giving you plenty of opportunities to roller skate every week.
Free Roller Skating Passes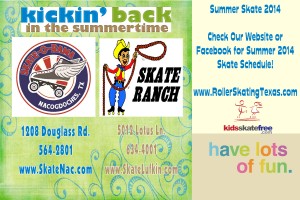 New this year,  we'll have free passes  online for you to print. Summer passes will be available to print off our website or Facebook page starting on May 30th.  At the beginning of each month of summer we will put a new coupon/pass out for you to print, and there is no limit to the number of passes you print. Yet, they will have monthly expiration dates. So, make sure you print off the current pass before you come skate.
We will also distribute information cards to the schools, and you can still use your Kids Skate Free passes.
Summer Skating Hours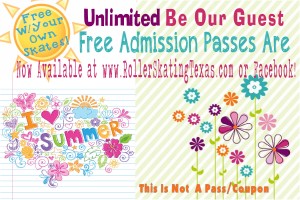 Beginning May 30, 2014, our new schedule at both roller rinks will be:
Monday – Closed, but open for private parties
Tuesday – Closed, but open for private parties
Wednesday – 12-4 p.m.: $5 admission, and 6-8 p.m.: Way Back Wednesday is taking the place of Take It Back Tuesday for our dollar night skating
Thursday 12-4 p.m.: $5 admission, and 6-8 p.m.: $4 admission
Friday 12-4 p.m.: $5 admission, 5-7 p.m.:$3 admission, and 7-10 p.m.: Teen Night with $7 admission
Saturday 12:30-5 p.m. in Lufkin and 12-7 p.m. in Nacogdoches: $6 admission, and 8-11 p.m.: Family Fun Night with $7 admission or the $29 family fun pack
Sunday 12:30-5 p.m.: $6 admission
Remember that admission does not include skate rental. Check our website and/or Facebook page for updates to our schedule, as well as printing our passes!
We are looking forward to a fun-filled roller skating summer! If you have questions or want more information about parties, don't hesitate to contact us.