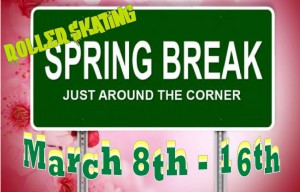 Spring Break is quickly approaching in Eastern Texas. Local schools will be on break from March 8 through 16, and we know how parents can struggle to find affordable activities to keep their kids busy during these school breaks. Let us help you enjoy a budget-friendly staycation where you can let your kids burn off their energy on a daily basis. Both of our Texas roller skating rinks, Skate Ranch and Skate-O-Rama, will be open every day of Spring Break, and we will be heading to the schools on March 3 and 4 to distribute free passes. Make sure you ask your kids for these passes to ensure their safe keeping.
The free passes will have our open hours listed on them, but if you want to go ahead and start planning out your week, Skate Ranch and Skate-O-Rama will be open:
Monday – Friday 12:00 to 4 p.m.
Monday – Thursday 6 to 9 p.m.

Friday 5 to 7

Friday 7 to 10 for teen night
Saturday 10 a.m. to noon (our lil' bit skate for skaters 11 and under)
Saturday 12:30 to 5
Saturday 8 to 11 for family fun night ($29 gets you admission for four, four regular drinks and four hot dogs)
Sunday 12:30 to 5
The free passes are valid:
Monday – Friday from 12 to 4
Monday – Thursday from 6 to 9 p.m.
Friday 5 to 7
Saturday 10 to noon and 12:30 to 5
Sunday 12:30 to 5
In addition to the free passes that we will be handing out to the schools, your Kids Skate Free passes will be valid during these times as well. Remember that the free passes do not include skate rental, which is $3. Don't struggle with trying to find things to do in eastern Texas during Spring Break. Spend the week roller skating with Skate Ranch and Skate-O-Rama.