Fundraisers for School, Organizations, or Churches**
Skating parties are a profitable venture and Skate Ranch or Skate-O-Rama are the perfect place for your next party or fundraiser. It's easy because there's no handling money, no product, no selling, no unused inventory, and you never lose money! Just invite your parents, brothers, sisters, neighbors, congregation and students. Your organization receives a percentage of the total admission sales. Roller skating is a fun, healthy social event that can help you provide for your church or school community. Fill out the form below or call your prefered location today to schedule your fundraising event.
How does your organization make money? The fundraisers are set up so a portion of the door ticket sales go back to the organization!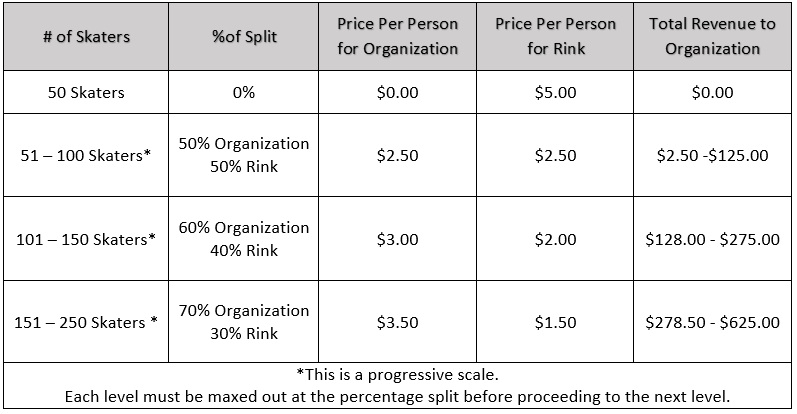 WHAT WE PROVIDE:
* QUAD ROLLER SKATES
* FULL SERVICE SNACK BAR
* MUSIC
* LIGHTS
* FOG
* GAMES
* KEEP A COUNT OF THE NUMBER OF SKATERS
HOW MUCH DOES IT COST?
* It is $250 to rent the rink. We don't ask for any money up front. We charge $5.00 at the door for all kids, whether they skate or not and all skating adults. The first 50 skaters cover the rink rental.
WHAT DOES YOUR ORGANIZATION NEED TO DO?
* Make a reservation! No deposit required.
* Promote! Promote! Promote!! Make announcements, create a flyer and send an email. The more skaters you have, the more money the organization makes. We can't stress promotion enough. We will use our social media as well.
**Fundraisers applicants must be 501(c)3 organizations.